Saturday December 5th, 8.00 pm, doors open 7.30 pm.
The Swan Inn, Shipton Road, Ascott-under-Wychwood, Oxon. OX7 6AY
Tickets £6.00 in advance £8.00 on the door available from: 01993831427 Wychwood Folk Club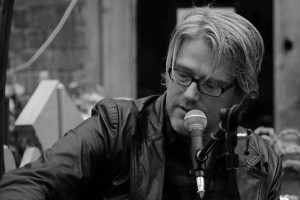 Paul McClure is a singer and songwriter from Rutland, England where he lives with his wife and daughters. The passing world is the fodder for Paul's characters and story lines in particular the loves, laughs and losses that have come his way.
"I suppose it all began in the back seat with The Beatles. Then it was Bob Dylan, Joan Baez and Johnny Cash. My mum was a big Roy Orbison fan and I think John Denver. The Everly Brothers came via her too. By the time I made it into the front seat I was soaking up everything I could lay my ears on – I was into Bob Dylan, The Band and Leonard Cohen with a passion by then and the folk revival scene which pretty much ruined my teenage years at school as it isn't easy being the only 13 year old in your class with a Joan Baez tape in your bag.
McClure spent most of 2014 on the road touring the UK with songs from his new album 'Smiling From The Floor Up' (Clubhouse Records) as well as numerous radio appearances (including Mark Radcliffe's Radio 2 show and the mighty Rutland Radio). 'The Rutland Troubadour Tour' (as it became known…) included not only venues but also a large number of house concerts hosted by fans in an attempt to both connect with his audience in a close and intimate setting and also to bring the sound of live music back into the home.
Colin Macnee
Colin has been active in the folk music scene in Scotland, Surrey and Oxfordshire for longer than he cares to remember. He was instrumental in establishing an international folk music festival in his native Glasgow and has performed at festivals in Norway and Brittany. His song repertoire draws on traditional British and Irish, American and contemporary sources.