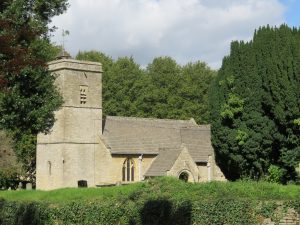 There has been a church in Ascott-under-Wychwood for nearly a thousand years. It has been at the centre of village life: a place of gathering for both worship and meeting. It is open dawn till dusk everyday and is open for all to enjoy peace and tranquillity of this ancient house of prayer.
Today, the parish of Ascott-under-Wychwood, is part of the Chase Benefice – a group of Church of England parishes serving the villages of Chadlington, Ascott-under-Wychwood, Spelsbury and Enstone. We are a lively, inclusive church community that offers a warm welcome to all, wherever you are on your faith journey. We are a thinking and reflective community that seeks to nurture the spiritual growth of people of all ages – questioning and exploring are encouraged and supported.
We worship as a Benefice each week, travelling around the four churches of the Benefice by rotation. There are services held in Holy Trinity Church on the second Sunday of the month at 10 am and on the fourth Sunday of the month at 8 am. We also hold an informal Coffee Morning in Church on the fourth Tuesday of each month between 10.30 – 11.30 am – a good chance to catch up with friends from the village. Full details of all our forthcoming services can be found on the notice board in the Church porch and on the various boards around the village or on the Benefice website here.
For further details, or to book a Christening or Wedding, please contact:
Revd. Mark Abrey
The Vicarage
Church Road
Chadlington
Chipping Norton
Oxon. OX7 3LY
Tel: 01608 676572
email: rector at thechasebenefice dot org dot uk*
* To prevent spam we are not publishing full email addresses – please remove spaces and replace 'at' and 'dot' with the appropriate symbols.