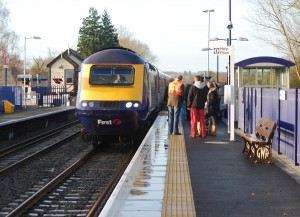 After a break last year, Ascott-under-Wychwood residents will once again be able to catch a train on Saturdays to go shopping or enjoy a day out in the run-up to Christmas, thanks to the Cotswold Line Promotion Group.
Great Western Railway (GWR) has agreed to a request from the group for trains to make special stops at the Oxfordshire village's station on Saturdays from November 28 to December 19, giving people the chance to go shopping in Oxford or London and visit Worcester's popular Victorian Christmas Fayre. Similar services were provided in 2011, 2012 and 2013.
Regular Saturday stops at the station were withdrawn in December 2006 but the CLPG believes that following the substantial investment in a second platform at Ascott as part of the redoubling of the line in 2011, it should have a better service than the current one weekday peak train into Oxford and one back.
The hope is that the reinstatement of regular Saturday trains and extra weekday services would make rail travel a much more attractive option for villagers and also encourage people to use trains to visit the Wychwoods area.
CLPG chairman John Ellis said:
I am delighted that GWR has again agreed to make extra stops at Ascott in the four weeks leading up to Christmas. The CLPG believes that there is a substantial suppressed demand for additional regular services to and from Oxford and London, and we will continue to campaign for this.

Take-up of the Christmas stops will be important in demonstrating that demand and I hope that the local communities will make good use of these services.
The following trains will stop at Ascott-under-Wychwood on Saturdays November 28 and December 5, 12 and 19.
The 07.10 from Hereford to London Paddington will call at 09.00. The train is due to arrive in Oxford at 09.25 and London at 10.44.
The 11.12 from London to Worcester and Great Malvern, which leaves Oxford at 12.23, will call at Ascott at 12.49, reaching Worcester Foregate Street at 13.44, while the 15.11 from London (16.23 from Oxford) to Great Malvern will call at Ascott at 16.47.
In addition, on November 28 only, the 17.49 from Great Malvern (18.02 from Worcester Foregate Street) to London will call at Ascott at 18.59 to allow visitors to the Worcester Victorian Christmas Fayre to return home.
William Crossley
Cotswold Line Promotion Group