Saturday February 6th, 8.00 pm, doors open 7.30 pm.
The Swan Inn, Shipton Road, Ascott-under-Wychwood, Oxon. OX7 6AY
Tickets £6.00 in advance £8.00 on the door available from:
01993 831427, www.wegottickets.com/wychwoodfolkclub, wychwoodfolkclub@gmail.com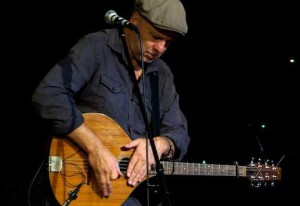 Born and raised in Bristol England, Fergusson did not come from a folk loving family, or even particularly music loving family. (This is not the usual preamble for most artists I know, but let's be honest, how many of these things start out the same way – the son/daughter of noted musician blah blah) instead, Fergusson rather stumbled upon the transformative qualities of self-expression, that all musicians, if fortunate, discover for themselves. An old ¾ size classical guitar left in a corner of a damp ridden bedroom, wrongly stringed with steel strings long-turned rusty, became at once his solace/teacher and inspiration
In 2007 Fergusson wrote and recorded his first solo album – Sam, an early attempt to blend the modern solo songwriter with the increasingly broad folk genre. Perhaps not surprisingly, the material, both live and recorded, was received with mixed reception. For many in the folk world like their folk music quite traditional, and the Irish Bouzouki to be nicely in the background. But it also became increasingly apparent, that audiences not necessarily fond or familiar with traditional folk music, responded most keenly to this new instrument and new sound. Fergusson soon increased his live performances with the use of loops and stomp box to create a fuller sound, and negating the necessity of having other band members to reproduce songs heard on the Sam album.
In mid-2008 encouraged by modern audiences, Fergusson decided to tour the Sam album off his own back throughout the UK despite having no idea how to do so. An 18 month adventure ensued, living in an old motorhome, and knocking on doors for gigs, Fergusson managed to survive from playing wherever and whenever and selling cds. From inverness to Cornwall, and from Norwich to the Forest of Dean, he plied his trade like some medieval itinerant craftsman.
Troubshort & Turnipseed
Troubshort and Turnipseed play American bluegrass and old time style music with cool British humour. The original double act of Reg Troubshort on banjo and Abner Turnipseed on guitar has now grown to a 5 piece with accompaniment on bass, percussion and steel guitar. They were a headline act on the main stage at this year's Wallingford Bunkfest, and released their debut CD entitled Dark Clouds Over Didcot in 2013 followed by the EP Banquet in a Can last year.