Saturday March 5th, 8.00 pm, doors open 7.30 pm.
The Swan Inn, Shipton Road, Ascott-under-Wychwood, Oxon. OX7 6AY
Tickets £6.00 in advance £8.00 on the door available from:
01993 831427, www.wegottickets.com/wychwoodfolkclub, wychwoodfolkclub@gmail.com
Fifteen String Trio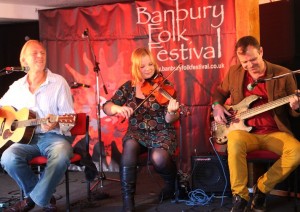 Fifteen String Trio formed in 2011 to play high quality, imaginative and contemporary folk music. Tunes play an important part in the repertoire, influenced by English, Celtic and Eastern European cultures. The songs are a blend of traditional, self-penned, borrowed and shamelessly stolen.
Mat Davies played the bass with Little Johnny England for many years, prior to that he was bass player with Clarion, both bands playing regularly across the UK, Europe, the US and beyond. Mat has also worked as a session player, notably with Fairport Convention, Julie Felix and the Drifters.
Katrina Davies is a virtuoso fiddle player, having recently graduated from the Birmingham Conservatoire where she studied violin. Katrina has played extensively across the UK and abroad with Joe Broughton's Conservatoire Folk Ensemble, with ceilidh bands and as an orchestral player.
PJ Wright will be known to many of you as the long term guitarist with the Dylan Project and Little Johnny England. He has also worked for many years with artists such as Steve Gibbons, Badfinger, and as a session player. More recently PJ has played as one half of a duo with Dave Pegg.