Saturday March 19th 2016, 8.00 pm., doors open 7.30 pm.
Tiddy Hall, Shipton Road, Ascott-under-Wychwood, Oxon, OX7 6AG
Tickets £10.00 in advance £12.00 on the door available from:
01993 831427, www.wegottickets.com/wychwoodfolkclub, wychwoodfolkclub@gmail.com
Richard Digance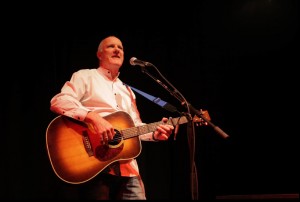 Richard Digance is a rare performer in that he's respected by comedians for his original material and by musicians for being an accomplished performer/guitarist. His loyal following confirms his wide appeal, from the younger generation attracted by both his guitar playing and the fact he has inspired many modern-day performers, to the super-loyal who have followed Richard since the time he had his own ITV series and even further when he started out in folk clubs. His evergreen career has been acknowledged through numerous awards within both the music and entertainment industries, from a BAFTA Nomination as a TV entertainer to a Gold Award from The British Academy of Composers and Songwriters. He is included in The Virgin Anthology of Songwriters for his important contribution to British comedy songwriting.
Richard Digance is also a world-acclaimed poet, an author and an artist. His poetry is published around the world, from The University of British Columbia, Canadian syllabus for English; Fearndon Teaching Aids, Illinois, USA, The Oxford University Anthology of Poetry, The West Indies Schools syllabus and more recently in Australia and in Cape Town South Africa as part of English First Additional Language Grade 8 Reader
He has survived all trends with his two and a half hour one-man show, his summer festival appearances in the UK, the United States, Canada and Dubai, his cruise work and television appearances. He is both an accomplished musician, rated by many as one of Britain's greatest acoustic guitarists, inspired by his good friend Ralph McTell, and an entertainer who many younger comedians, including Ross Noble, claim as one of their major influences. On his own ITV Saturday-night show Richard has played guitar with Queen's Brian May, The Moody Blues, Status Quo, Chris De-Burgh, Juan Martin, Marc Cohn and Elkie Brooks.
However, Richard Digance does not rest on his immense reputation. In the last two years he has broadened his appeal, firstly by proving to be one of Britain's most sought after cruise entertainers and secondly by returning to his musical roots through major music festival appearances.
Mandolirium
Rod Craig and John Somerscales put their shared passion for the mandolin together with the guitar in an exhilarating blend of moods and styles. From 16th-century dance tunes through the Bluegrass and Irish traditions to contemporary originals, from Carolan to JJ Cale, Mandolirium showcases the lyricism, spirit and energy of this most captivating of instruments.