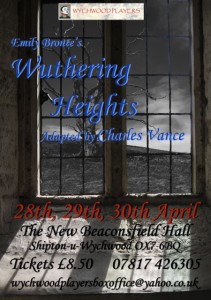 The Wychwood Players are pleased to bring a real 'drama' to the stage at the end of April. WUTHERING HEIGHTS. Written by Charles Vance specially for the stage it has been widely acclaimed as one of the best and most cleverly written adaptations.
The talented and very enthusiastic cast members of the Wychwood Players have embraced the power, pain and tormented passion that this play needs to guide the audience through the thirty years of Heathcliff's and Cathy's heart breaking relationship.
The set has been created by a new team of motivated and willing men helping to create the directors vision of the two houses being as entwined as the characters.
The play promises to bring this old favourite story to life, so many know it but have never read or seen it. The cast are working tirelessly along with the crew, costumes, set and FOH. This is drama at its best for everyone to see and understand.
The play is on April 28/29/30th at 7.30pm at The New Beaconsfield Hall Shipton under Wychwood.
Box office opens on April 11th. Tickets £8.50.
Box office please call..07817426305 or email. wychwoodplayersboxoffice@yahoo.co.uk