Saturday April 2nd 2016, 8.00 pm., doors open 7.30 pm.
Tiddy Hall, Shipton Road, Ascott-under-Wychwood, Oxon, OX7 6AG
Tickets £13.00 in advance £15.00 on the door available from:
01993 831427, www.wegottickets.com/wychwoodfolkclub, wychwoodfolkclub@gmail.com
About Gigspanner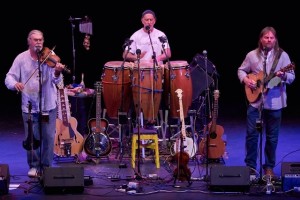 Since his departure from folk-rock pioneers Steeleye Span at the end of 2013, legendary fiddle player Peter Knight has turned his full attention to his trio Gigspanner, and in the process has firmly established their burgeoning reputation as one of the most innovative acts on the folk/roots scene.
A glance at the band's Guestbook page offers an insight into the emotional impact their performances exert…"spellbinding" "sublime" "blown away" "inspired" and "magical" are familiar themes.
Hailed by Songlines as "another milestone in folk's rebirth of cool", there is however far more to Gigspanner than meets the eye, and to categorise these virtuoso performers purely as folk musicians would be to significantly undersell them, and to deny audiences the full scope of their musical embrace.
As expected, British traditional music forms the bedrock of the trio's repertoire, but the approach is what sets it apart…leaving enough room with the arrangements to spread and stretch the music in the moment.
In Peter's own words "there is nothing more exciting than finding yourself lost in a new layer of inspiring and spontaneous music". But taking it even further, subliminal, multicultural influences are fed into the mix, flirting audaciously with French, Cajun, Cuban and even Eastern European traditions.
As the late Sir Terry Pratchett poetically observed "Peter Knight can spin the world on his Bow".
Within Gigspanner, Peter's musicianship is further enhanced by the flawless playing of Roger Flack on Guitar and Vincent Salzfaas on Congas and Djembe. Both have been described as "powerful and intelligent musicians in their own right" (Geoff Boudreau, Rye Arts Festival).
As a founding member of Celtic-Rock Band 'The Tabs', Roger is primarily a rock musician who shares Peters' affinity with traditional material, whilst Vincent who has studied his craft in Senegal and Cuba, adds another dimension, one that is distinctly multi-cultural.
May 2015 heralded the release of their new studio album Layers of Ages, which sees Gigspanner blowing the dust from a collection of well-worn traditional songs and tunes, dismantled, reconsidered and put together again to reveal moments of originality and staggering beauty. In the words of fRoots "Peter shows a willingness to turn the expected inside out and to place it back as neat as it was before being taken"
It has been played on several BBC folk shows, including Radio 2's Mark Radcliffe show and Radio 3's 'World on 3', and has received a host of glowing reviews in the music press. The Telegraph has added it to their 'Best Albums of 2015' list.
What drives Gigspanner is an unwavering, single minded commitment to dig deep and to load the music with something of value. Gigspanner's audience knows that it is being honoured with a gift that is the difference between 'entertaining' and 'spellbinding'.