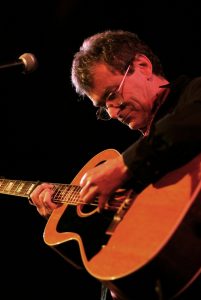 Saturday May 21st 2016, 8.00 pm., doors open 7.30 pm.
The Swan Inn, Shipton Road, Ascott-under-Wychwood, Oxon, OX7 6AY
Tickets £10.00 in advance £12.00 on the door available from:
01993 831427, www.wegottickets.com/wychwoodfolkclub, wychwoodfolkclub@gmail.com
Steve Ashley
Steve Ashley is one of British folk's finest singer-songwriters. His songs have been covered by a legion of folk artists, including Fairport Convention, Anne Briggs, Martin Simpson, Wizz Jones, Phil Beer, Maggie Boyle, The Bushwackers, Grace Notes, The Arizonas, Sproatly Smith, The Owl Service and St Agnes Fountain, among many others.
His album career began in 1974 with an award-winning debut – the ground-breaking 'Stroll On', which to this day, is still regarded as a folk-rock classic.
In total, Steve's released ten albums of original songs – consistently melding tradition with innovation and delivering intelligent and inspired English poetry, amid beautifully distinctive original melodies. His latest album, 'This Little Game' has been well received with many rave reviews and listed in The Telegraph's Best Folk Albums of 2015.
He's recorded with Anne Briggs, Shirley Collins, Linda Thompson, Robin Williamson, Richard Thompson, Danny Thompson and various members of Fairport Convention and also performed his songs with chamber orchestras conducted by Nick Drake's arranger, the late Robert Kirby. A lead singer with The Albion Country Band and his own Ragged Robin, Steve is a consummate entertainer and has what America's Variety magazine has called 'one of the funniest dry stage raps'.
In 2013 the prolific rock author, Dave Thompson published a musical biography of Steve's career: Fire and Wine – An Armchair Guide to Steve Ashley with contributions from Dave Pegg, Chris Leslie, Shirley Collins, Linda Thompson, Colin Irwin and many others.
If you like songs that are edgy, challenging and compassionate – and sometimes very funny – then don't miss this performance.
He's one of the British folk scene's finest singer-songwriters.

Mike Harding