Saturday May 7th 2016, 8.00 pm., doors open 7.30 pm.
Tiddy Hall, Shipton Road, Ascott-under-Wychwood, Oxon, OX7 6AG
Tickets £8.00 in advance £10.00 on the door available from:
01993 831427, www.wegottickets.com/wychwoodfolkclub, wychwoodfolkclub@gmail.com
Wizz Jones – acoustic guitarist, singer/songwriter and bluesman.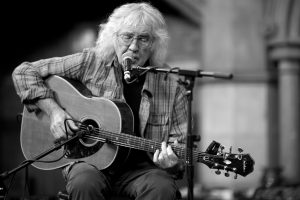 Wizz began his musical career at the age of 18 leading a Country and Skiffle band called "The Wranglers" in his home town of Croydon, Surrey in 1957. He had been inspired to take up the acoustic guitar a year or so before this after hearing such guitar luminaries as Big Bill Broonzy, Rambling Jack Elliot and Muddy Waters playing at a club in London organized by Cyril Davies and Alexis Korner (The Roundhouse in Wardour Street). Having learned most of his blues licks from Long John Baldry and Davy Graham whilst playing in the coffee bars of Soho, Wizz followed the time honoured trail – busking throughout Europe with many different musicians including at one time a budding young blues-man named Rod Stewart.
On returning to Britain in the early sixties, Wizz formed a blue-grass duo with banjo-picker Pete Stanley, a partnership which was to last for four years during which time Wizz and Pete recorded a single and LP Album for EMI. (Now available on CD with previously un-released bonus tracks on the Rollercoaster label).
Wizz and Pete went their separate ways at the end of 1967 and Wizz returned to solo work collaborating with songwriter Alan Tunbridge (an artist friend from the Soho days) and occasionally with guitarist Peter Berryman. He enjoyed considerable success throughout the 70's In Europe and Scandinavia both as a touring soloist and together with his wife Sandy in the group "Lazy Farmer" (the group's album due to be released on CD autumn 2005).
However back in England and several albums later – in spite of being often mentioned as an important early influence by artists such as Eric Clapton, John Renbourn and Ralph McTell (see Ralph's biog of Wizz), Wizz retained a certain "musician's musician" reputation, only occasionally playing club gigs and the odd festival spot sometimes with son Simeon on Sax, Harmonica and Flute. (As Billy Connolly says in the "Acoustic Routes" TV Documentary on Bert Jansch – "My friend Wizz has had a somewhat wispy career – now you see him now you don't!")
It was possibly as a result of Wizz's appearance in this film and the re-issue of some of his long lost classics during the 90's that Wizz began to enjoy a bit of a come-back!
More recordings followed notably on the U.S. based Scenescof label which led to Wizz's first trip to America (see review "Wizz Jones – 1st show in U.S.) and later on an appearance in the documentary film "The Ballad Of Rambling Jack Elliot" and even a gig in New York with Thurston Moore (Sonic Youth!).
Wizz celebrated his 65th birthday on April 23rd 2004 in London, together with Simeon and guest musicians at The Half Moon Putney and 2006 saw the release of a new DVD featuring Wizz and Simeon playing and talking to Martin Carthy.
With his unique guitar style, an eclectic repertoire and "a right hand worthy of Broonzy" Wizz continues to tour on the acoustic folk and blues circuit. http://www.wizzjones.com/index.html
TRED
TRED are a sophisticated contemporary folk trio playing a diverse range of meticulously arranged tunes and songs. The culmination of Elly Reese' uncompromising flute, David Delarre's melodious but driven guitar and Pete Thomas' full and harmonic double bass sound. An energetic fresh approach to traditional material, the members of TRED bring together a vast musical experience that spans many genres.