Saturday June 4th 2016, 8.00 pm., doors open 7.30 pm.
Tiddy Hall, Shipton Road, Ascott-under-Wychwood, Oxon, OX7 6AG
Tickets £10.00 in advance £12.00 on the door available from:
01993 831427, www.wegottickets.com/wychwoodfolkclub, wychwoodfolkclub@gmail.com
Ninebarrow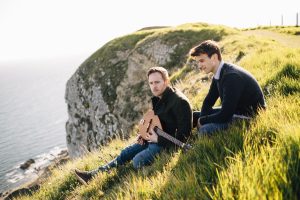 Ninebarrow are a multi-award-winning folk duo, who are impressing audiences across the country with their innovative and captivating take on the folk tradition. Described by Mike Harding as sounding 'damn fine' and by Seth Lakeman as 'a fantastic duo', Jon Whitley and Jay LaBouchardiere combine breath taking vocal harmonies and melodies, delivering original songs that are inspired and rooted in the landscape and history of the British Isles. As well as crafting unique and engaging original material, Ninebarrow also take a wide-range of traditional folk songs and rework them in their own, distinctive way. 'In their close harmonies and rural imagery, Ninebarrow occupy the middle ground between Simon & Garfunkel and Seth Lakeman: a place of lyricism, longing and masterly songwriting' (Rick Pearson, Evening Standard Music Critic)
Engaging, charismatic and humorous – Ninebarrow are winning new fans wherever they go. See them live, and you'll quickly understand why.
Accolades
Best Debut Album of 2014 Fatea Magazine
Telegraph's Top Folk Albums Shortlisted 2014
UK Songwriting Competition Finalist 2014
Larmer Tree Breakthrough Music Award Winners 2013
Records of the Year 2013 Ukulelehunt.com
Robert Lane
Robert Lane is a singer songwriter based in Birmingham.
Robert's musical path began with liberating his brother's guitar from a bedroom cupboard. "He's eleven years older than me so he had all the cool toys, including this guitar. I asked if I could have a go or even borrow it, he always said yeah sure tomorrow. So in the end I went into his room one day when he was at work and sat on his bed playing it. I did this for a week or two, having to put it back in his cupboard before he came home. I couldn't re-string it as a left handed person should do as that would give me away. By the time he lent it to me legitimately I had learnt too much to start again left handed and so to this day I play the wrong way round."
Inspired to write and perform by the likes of The Beatles, Pete Townshend, Rufus Wainwright and Ron Sexsmith, Robert played with various bands as a guitarist before taking the decision to perform as a solo artist.