From the Wychwoods to Weymouth – CLPG's 2016 charter train makes tracks for Dorset coast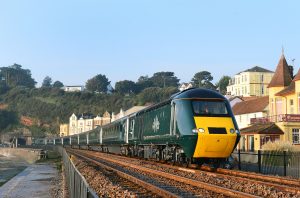 Every year the Cotswold Line Promotion Group charters an excursion train to take passengers from stations on the line between Oxford and Worcester for a day out at a special destination.
This year's excursion, on Saturday, September 24, will see a Great Western Railway High Speed Train run to the Dorset seaside resort of Weymouth, which will call at Ascott-under-Wychwood and Shipton stations to pick up and set down passengers.
Many tickets have been snapped up by members of the group, which represents passengers on the rail route between Oxford, Worcester and Hereford, but they are now on general sale to members of the public.
A limited number of first class tickets are still available, along with 150 seats in standard class.
The train will leave Oxford at 6.45am, calling to pick up passengers at Hanborough, Charlbury, Ascott-under-Wychwood, Shipton, Kingham, Moreton-in-Marsh, Honeybourne, Evesham and Pershore en route to Worcester Shrub Hill. It will leave Worcester at 8.15am, for a direct run to Weymouth, taking the route via Bristol, Castle Cary, Yeovil and Dorchester, and arriving at the resort at 11.35am.
The return train will depart from Weymouth at 4.55pm, running back to Castle Cary, then via Swindon and Didcot to reach Oxford at 7.25pm. The train will then make the same stops as the outward journey to drop off passengers, arriving in Worcester at 9.10pm.
This is not the first time the CLPG has run an excursion to Weymouth, but in 1997 the train was a three-car Class 166 Thames Turbo diesel unit, seating about 250 people, rather than an eight-coach HST with more than 500 seats.
Standard class tickets are £45 for adults (£35 for CLPG members) and £18 for children. First class tickets are £95, or £80 for CLPG members. Children under five can travel free of charge.
To book tickets, please send a letter stating how many tickets you want to buy, your address and a telephone number, along with a cheque for the relevant amount, made payable to the CLPG, to Brian Clayton (CLPG), Newhaven, Greenway Road, Blockley, Moreton-in-Marsh, GL56 9BQ. All applications must include a stamped addressed envelope, which will be used to send out tickets in September.
Anyone who would like confirmation of a booking is asked to provide an email address or an extra SAE.
Inquiries can be made to Mr Clayton, the CLPG's treasurer, on 01386 701528 or email bcclayton@btinternet.com. Please note that anyone requiring first class seats is advised to check.