Saturday September 3rd 8.00 pm., doors open 7.30 pm.
Tiddy Hall, Shipton Road, Ascott-under-Wychwood, Oxon, OX7 6AG
Tickets £10.00 in advance £12.00 on the door available from:
01993 831427, www.wegottickets.com/wychwoodfolkclub, wychwoodfolkclub@gmail.com
You haven't heard a duo until you've heard this one!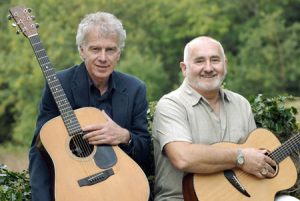 Jonny Coppin and Mike Silver.
The two voices are a natural mix and the way they share the songs shows this to be a duo in the truest sense. The combination of Johnny's piano and Mike's guitar gets right to the heart of the listener. This is music from the soul, delivered with powerful conviction by a duo in the truest sense of that word. The delight they take in playing the music is plain to see and their live shows encapsulate a blend of skill and powerful emotion. The commitment from both artists to put the songs first, is manifest and their willingness to work for each other on stage is inspirational.
Their first duo album released a couple of years ago, Breaking the Silence, Faymus Recordings FRCD 0101, is collection of 15 songs with an "unlisted surprise track". With this recording the duo displays their ability to write together, perform cover versions by other writers as well as enhance the arrangements of each other's compositions. It's the real deal, the complete package.
Kim Lowings & The Greenwood
Described as having "a beauty of spirit that transcends in her lovely songs", Kim is an Appalachian mountain dulcimer player, pianist and songwriter. She sings with an enchantingly pure voice and The Greenwood create a harmonious backline of hypnotic guitar, bouzouki, double bass and percussion. It transports you away and will get you singing along and tapping your feet. Working with traditional folk song and their own original material, they weave musical stories inspired by both fables and everyday life. Website – http://www.kimlowings.com/ .