Saturday October 29th 2016 8.00 pm., doors open 7.30 pm.
The Swan Inn, Shipton Road, Ascott-under-Wychwood, Oxon, OX7 6AY
Tickets £8.00 in advance £10.00 on the door available from:
01993 831427, www.wegottickets.com/wychwoodfolkclub, wychwoodfolkclub@gmail.com
Anthony John Clarke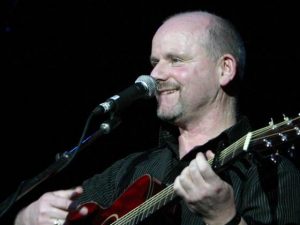 Chances are you've met Anthony John Clarke at an event on the folk music circuit. He has been involved in music for many years now, having recorded twelve CD albums, three CD singles and published two songbooks. He has played in hundreds of clubs and festivals in the UK, Europe, Australasia and the USA, and his songs and career receive good coverage.
Anthony John Clarke was born in Belfast on 18th October 1956. He started songwriting at the age of nine inspired by the sixties but it was only when he left Ireland and came to England that he pursued his passion for writing with any vigour. Lacking belief in his work he languished in the shadow of others for too long but the creator of "Irish Eyes" and the beautiful "Seven In Ireland" was destined to make a mark on the British contemporary music scene.
Living in Liverpool and being managed superbly by Sheelagh McGovern for many years afforded Anthony John the opportunity of performing his songs far and wide. Seven tours of the East Coast of the USA ensured him a small but loyal following there which remains loyal to him to this day. Bookings at clubs up and down the UK and recent developments including the vocal collaboration with Elizabeth van de Waal increased his popularity and made him an established folk name.
There are very few places in the UK and Ireland that Anthony John has not played. His supporters are loyal and many, and the tributes he receives from his peers bear witness to the talent and hard work of one of the folk scene's nicest guys. He retains his reputation as one of the top songwriters on the scene and his hard work and dedication to his craft are a credit to him. For him, songwriting is indeed a craft.
He storms it every time he gets on a stage. Brilliant!!! He had our audience eating out of his hand every night on the Fairport Convention Tour. – Dave Pegg, Fairport Convention
Ben Sures
Ben would be best described as a wiz of a guitar player who tells great stories in song.
A natural stage presence he connects with his audience in a very laid back way, it's a bit of 'taking the audience to Ben land for a vacation'. Songs about everything from imaginary Ray guns to sandwiches prepared for him by his father when he was a young boy. A Ben Sures concert includes humour, storytelling, sing a long and great guitar playing. Sures is immersed in the history of roots music so you feel the old traditions informing this contemporary songwriter's music.
Ben is a winner of numerous songwriting contests including the John Lennon and the International songwriting contest. He has travelled far and wide across Canada performing at Festivals, small clubs, fairs, town squares and living rooms. He has also toured the UK twice and even performed in Beirut, Lebanon. He is well known for his work on CBC Radio as part of 'The Irrelevant Show' as well as the many interviews and broadcasts on Canada Live, The Round Up, Morningside, Madly Off in all Directions, The Vinyl Café and more.