Friday November 11th 2016 8.00 pm., doors open 7.30 pm.
The Swan Inn, Shipton Road, Ascott-under-Wychwood, Oxon, OX7 6AY
Tickets £10.00 in advance £12.00 on the door available from:
01993 831427, www.wegottickets.com/wychwoodfolkclub, wychwoodfolkclub@gmail.com
Clive Gregson
Born and raised in Manchester, England, Clive Gregson is an accomplished singer, musician and record producer. He started his professional music career in 1980 as the leader of cult band Any Trouble. The group toured extensively in support of five critically acclaimed albums and a number of singles that became radio hits before disbanding at the end of 1984. Fondly remembered and greatly missed.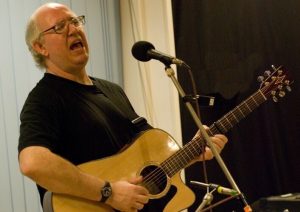 In 1985, Clive released the first of thirteen solo albums and he has maintained a solo profile ever since. His solo recordings and tours have been one of the main outlets for his prolific songwriting and a solo "Best Of…" compilation was released in April 2009. Clive's solo albums feature an eclectic mix of pop and folk styles, ranging from the full on electric band approach of "I Love This Town" to the stripped down "one man and his acoustic guitar" intimacy of "Long Story Short". May 2013 saw the release of Clive's latest CD, "This Is Now". Clive's live shows are usually solo performances and the guitar skills that prompted Guitar to include him in their "1,000 Great Guitarists" are always well in evidence.
Ian O'Regan
Ian O'Regan is an Irish multi-instrumentalist singer, songwriter, and producer, with over 30 years' experience of rock, blues, folk and country music. Most of his performances are solo these days, but he also plays with a number of bands of different genres. Inspired by a wide range of influences – from Jackson Browne and Tom Waits, to Folk artists Mick Hanley and Eric Bogle, and a host of others besides – his solo music is rooted in blues, but runs into country, rock and folk as well.