Saturday November 19th 2016 8.00 pm., doors open 7.30 pm.
Tiddy Hall, Shipton Road, Ascott-under-Wychwood, Oxon, OX7 6AG
Tickets £13.00 in advance £15.00 on the door available from:
01993 831427, www.wegottickets.com/wychwoodfolkclub, wychwoodfolkclub@gmail.com
Vin Garbutt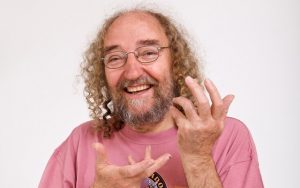 Vin Garbutt's songs were inspired by the folk tradition at the beginning of his career, they still are, but have transformed into gritty social comment and life observations. He is renowned for his hilarious intro's., but for him his song lyrics are the crux of his performance. Vin is the biggest draw on the British folk scene today.
Vin cuts through the bull, grasping those he meets firmly by the hand and shaking them up with a dose of laughter and tears. It's a true gift to be able to make us laugh and squirm at the same time, Vin does both. He should be prescribed on the National Health.
– English Folk Dance & Song Society.