Saturday December 17th 2016 8.00 pm., doors open 7.30 pm.
The Swan Inn, Shipton Road, Ascott-under-Wychwood, Oxon, OX7 6AY
Tickets £8.00 in advance £10.00 on the door available from:
01993 831427, www.wegottickets.com/wychwoodfolkclub, wychwoodfolkclub@gmail.com
Ewan McLennan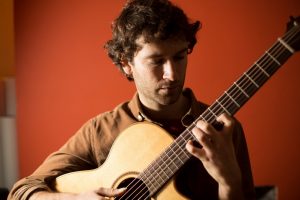 Ewan McLennan has come to be known as a guitarist at the very forefront of his generation; a troubadour, balladeer and storyteller cut in the old style; a singer that can move audiences with his passion and pathos; and a songwriter for whom social justice is still a burning issue.
From a BBC Horizon Award for his debut album to his recent performances on the acclaimed Transatlantic Sessions, recent years have been marked by numerous awards and accolades for his music. Ewan McLennan's new album, 'Stories Still Untold', is already attracting critical acclaim and is sure to further cement him as "one of the bright lights on the folk scene today".