Saturday December 3rd 2016 8.00 pm., doors open 7.30 pm.
Tiddy Hall, Shipton Road, Ascott-under-Wychwood, Oxon, OX7 6AG
Tickets £10.00 in advance £12.00 on the door available from:
01993 831427, www.wegottickets.com/wychwoodfolkclub, wychwoodfolkclub@gmail.com
Hatful of Rain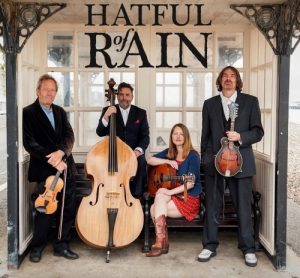 Hatful of Rain are a Bluegrass/Old time influenced British folk/roots band based in East Sussex. Playing original material, Hatful of Rain strive to combine powerful song-writing with musical virtuosity whilst retaining a strong traditional feel. The Hatful's make full use of the "single microphone" approach to performing which creates an engaging visual spectacle whilst underlining the warmth and communal style of the music played.
The four piece comprises Phil Jones on double bass, clawhammer banjo and vocals, Chloe Overton on guitar, mandolin and vocals, Fred Gergory on guitar, mandolin and vocals, and James Shenton on violin.
"Hauntingly beautiful….I love it!" (Bob Harris)
"They are very very good indeed!" (Mike Harding)
"Well worth seeking out" (The Daily Telegraph)
"A fuss has been made about them, and rightly so" (Spiral Earth)
"It's easy to pin the bluegrass label on this bunch, which in my view does them a disservice, as while their songs encompass the usual round of death, love, heartbreak etc, by adding elements of British folk managing to sound refreshingly different. They were a knockout at the recent Maverick festival. Go buy this album if you want to know what all the fuss is about" (Maverick Magazine)
Thom Morecroft
Played on 6music and described by ex-editor of NME, Q, Mojo and Word Paul Du Noyer as "cheering and addictive", Thom Morecroft is a scruffy cherub of a folk-pop singer-songwriter from Shrewsbury, precariously hidden away somewhere along Liverpool's Georgian Quarter.
Having just successfully crowd-funded the release of his next EP (13/01/2016), Thom will be touring the UK in the early months of 2016.