Tiddy Hall, Shipton Road, Ascott-under-Wychwood, Oxfordshire, OX7 6AG
Saturday April 29th 8.00 pm., doors open 7.30 pm.
Tickets £10.00 in advance £12.00 on the door available from:
01993 831427, www.wegottickets.com/wychwoodfolkclub, wychwoodfolkclub@zoho.com, www.wychwoodfolkclub.com
Harry Bird and the Rubber Wellies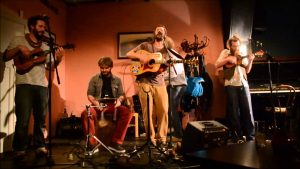 Travelling folksters Harry Bird and the Rubber Wellies present their intimate cabaret of joyful, sing-a-long choruses and general participatory fun. Pirates, lizards, cracks in the wall and Basque cyclists all inhabit the songscape. And a beard snood…. They are currently touring with their latest album "Bricks and Feathers".
Skippered by guitarist Harry Bird (Cambridge/Edinburgh/Bilbao) and the multi-tasking Christophe Capewell (Sheffield/Dublin), they have spent the last eight years on the road, playing bars, cafes, circus galas, festivals, folk clubs and front rooms alike, cheering audiences all over from Galway in Ireland to Gisborne in New Zealand. After the success of "Long Way to Be Free" (2009) and "The Bones on Black" (2012), their third studio album, "Bricks and Feathers", was released in May 2015 with the help of the usual crew of far flung welly misfits.
One of my favourite bands of recent years – Mike Harding, former BBC Radio 2 presenter
An album that consistently surprises and delights…it is folk music as artefact, not industry…simply magnificent – Sean McGhee, editor R2
https://www.youtube.com/watch?v=Ge9SdQByqgg