Tiddy Hall, Shipton Road, Ascott-under-Wychwood, Oxfordshire, OX7 6AG
Saturday June 3rd 8.00 pm., doors open 7.30 pm.
Tickets £12.00 in advance £14.00 on the door available from:
01993 831427, www.wegottickets.com/wychwoodfolkclub, wychwoodfolkclub@zoho.com, www.wychwoodfolkclub.com
Winners – 'BEST DUO' – BBC Radio 2 Folk Awards 2016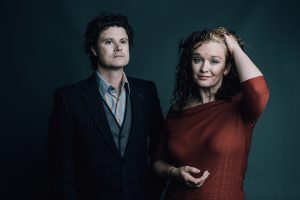 Winners – 'BEST DUO' – Spiral Earth Awards 2015
Winners – 'BEST DUO' – BBC Radio 2 Folk Awards 2013
Two of the British folk scenes most accomplished performers, Kathryn and Sean have graced stages the world over in a number of guises. However, the intimacy and strength of passion shown as a duo, combined with an ever evolving eclectic repertoire ensures a rare treat for any listener.
www.kathrynrobertsandseanlakeman.com
Twin daughters and a folk-rock whirlwind forced Kathryn Roberts (Vocals / Piano / Woodwind), and Sean Lakeman (Guitar), to sideline their popular duo performances in the mid noughties. After almost a decade, 2012 saw a spectacular return in conjunction with their critically acclaimed album 'Hidden People'. Awards and much praise followed and the couple swiftly re-established themselves as one of the top British folk duos working today.
With their fourth and most successful album to date 'Tomorrow Will Follow Today', Kathryn and Sean's reputation for 'quality' was cemented. More awards and plaudits followed. Most gratifying for the pair was a growing acknowledgement as 'Songwriters par excellence' – fRoots.
An obvious dedication to their craft mixed with the acute ability to draw a listener effortlessly and intimately into their world has led to their shows being described as "An absolute masterclass in how to do it right." – Festivalsforall.com
With a story that includes over 20 years of music making with the likes of Seth Lakeman, Cara Dillon, Levellers, Kate Rusby and Show of Hands, Kathryn Roberts and Sean Lakeman have consolidated themselves as pillars of modern British folk.
Kathryn Roberts smoky, assertive vocals are a tasty feast for listeners craving music that requires a sharp mind and an open heart. – Billboard Magazine

As a guitarist, producer and co-songwriter, Sean Lakeman is one of the unsung heroes of modern British folk – MOJO

Kathryn Roberts is extraordinary, exuding more emotion in a single sigh than most divas can manage in an aria – Sing Out, USA

Sean Lakeman`s clever acoustic guitar riffs mixed with Roberts` sultry singing combine to bring tuneful, intelligent and soulful music – Acoustic Guitarist