Double bill & live recording
Tiddy Hall, Shipton Road, Ascott-under-Wychwood, Oxfordshire, OX7 6AG
Saturday July 29th 7.30 pm., doors open 7.00 pm.
Tickets : Free entry, to reserve a seat contact: 01993 831427
01993 831427, www.wychwoodfolkclub.com
Two top local bands are coming together for this exciting project which will hopefully see each band release a live album later in the year.
Entry is free. Anybody donating £5.00 or more will get a copy of a limited edition album featuring the best five tracks recorded by each band on the night.
Under the Wychwood are Mark Pidgeon (guitar & vocals), Rod Craig (mandolin), Lefty Wright (cajon) and Mat Davies (bass). They play an eclectic mix of Americana, Folk & Acoustic music.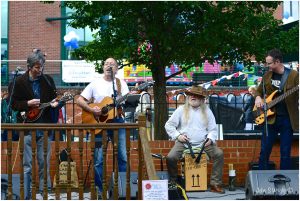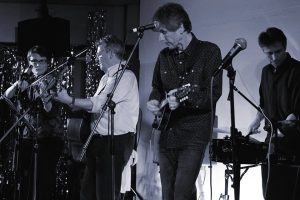 The Ponderosa are Rod Craig (mandolin/vocals), Kate Saunders (fiddle/vocals), Simon Stafford (vocals/guitar), and Colin Tester (percussion). Hailing from the gently rolling hills and river valleys of Oxfordshire, they play an infectious blend of the familiar and obscure: traditional and contemporary acoustic music and Americana played with passion and energy, by turns sublime and rabble rousing.