Saturday September 16th 7.30 pm., doors open 7.00 pm.
The Swan Inn, Shipton Road, Ascott-under-Wychwood, Oxon, OX7 6AY
Tickets £10.00 in advance £12.00 on the door available from:
01993 831427, www.wegottickets.com/wychwoodfolkclub, wychwoodfolkclub@gmail.com
Na-Mara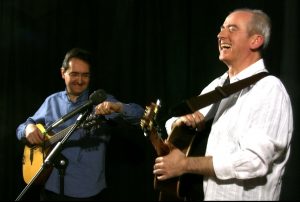 Na-Mara brings together talented English singer songwriter and guitarist Paul McNamara and wonderful mandolin player Rob Garcia
They write "fantastic songs and the stories grab you from the start" and may be put on the list of enjoyable English duos such as veteran Knightley and Beer or young Cadie and Bloomer.
In recent years, Na-Mara have built an enviable reputation for fine story-telling and musicianship , performing in clubs and festivals across the UK, at events in France, Spain and Germany and on BBC Radio 4 and a plethora of internet and local radio stations.
They consistently deliver new and exciting material to folk audiences with their own provocative material in traditional style on contemporary and historical topics; their English translations of songs from Breton, French and Quebecois traditions; and their take on traditional tunes from Brittany, France and the Spanish Celtic regions of Asturias and Galicia.
Edward Naysmith
Edward Naysmith is a singer/songwriter, residing in Reading. He currently plays various venues nationwide. Though deeply in touch with heritage music, he is by no means considered a "puritan". Taking influence from such artists as – Richard Thompson, John Martyn, Clifford T Ward, Nick Drake and Kevin Ayers. He is quickly becoming an important and prominent force in the revival of the acoustic singer/songwriter.