Cancelled
Saturday March 3rd 2018 7.30 pm., doors open 7.00 pm.
The Swan Inn, Shipton Road, Ascott-under-Wychwood, Oxon, OX7 6AY
Tickets £8.00 in advance £10.00 on the door available from:
01993 831427, www.wegottickets.com/wychwoodfolkclub, wychwoodfolkclub@gmail.com
Ian W Brown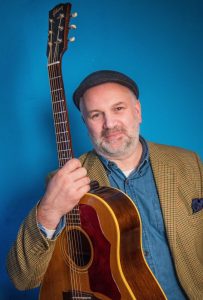 It's 30 years since Ian W Brown decided he stood a better chance of making a living farming pigs in Hampshire than saving the world with song. A year or two later while toiling in the fields he heard The Stone Roses on the radio, fell in love with the band and allowed himself a wry smile that at least one person with his name was living the dream.
But he kept his hand in writing songs before going to work and playing folk clubs when he could. Then, farming being almost as precarious as the record business, he answered the call for Britain's farmers to diversify by going into the music industry full time. He started out selling line dance CDs, then got into band management, record plugging, recording and song writing.
Since then he has been nominated for an Ivor Novello award for co-writing Sandi Thom's number one single, 'I Wish I Was A Punk Rocker' and the album from which it was taken. He co-wrote the lead song in the long running West End musical 'Dreamboats and Petticoats' and has written songs for many artists including Fisherman's Friends, Show of Hands, Jason Donovan, D Side, Pixie Lott, Graham Gouldman, Henry Priestman, Simon Webbe, Drumsound & Bassline Smith and even Meryl Streep. His songs have been played on Radio 1, Radio 2 Radio 4 and Radio 5 in the last year. His ambition in 2018 is to conquer Radio 3 and is currently writing a collection of neo classical Zither tunes!
Performing and writing songs remains Ian's hobby as he's too old for football and has no aptitude for golf. He has never recorded under his own name… until recently. Ian's new single, 'The Five Foot Two Inch Giant', is a song written in praise of his wife on their 28th wedding anniversary and is released later this year.
He has supported Julie Felix, Rita Coolige , Martin Simpson , Martin Cathy, 10cc and Steve Harley.
This summer Ian will return to the fringe stages and after-hours sessions at some of the country's most prestigious festivals and folk clubs to play a few of his songs that have graced the charts and many more that haven't, including 'She Can't Recycle Michael & His Folding Bicycle', 'There's A Light At The End Of the Tunnel (& It's The Front Of The Train)', 'Grey Is The New Blonde' and 'The Jeremy Kyle Song. These finely-honed everyman tales and self-deprecating musical gems are interspersed with tall tales from the music business, life, love and the universe, which is visible from his shed in the New Forest.
As Ian will be the first to tell you there aren't many politicians he has a great deal in common with. However, if he ever has a hit under his own name he could join the best-known hobby composer of them all – Charles G Dawes, the American banker, politician, general and ambassador to the UK who went on to serve as Vice-President to Calvin Coolidge after writing the music that became 'It's All in the Game', the 1958 chart-topper for Tommy Edwards.
Dawes in the only US Vice-President to have a number one hit. He and Bob Dylan are the only people to have had a number one hit and win a Nobel Prize. Ian W Brown is the only recorded pig farmer to be nominated for an Ivor Novello Award.