Tiddy Hall, Shipton Road, Ascott-under-Wychwood, Oxfordshire, OX7 6AG
Saturday March 24th 7.30 pm., doors open 7.00 pm.
Tickets : £10.00 in advance £12.00 on the door available from:
01993 831427, www.wegottickets.com/wychwoodfolkclub, wychwoodfolkclub@zoho.com, www.wychwoodfolkclub.com
Mike Silver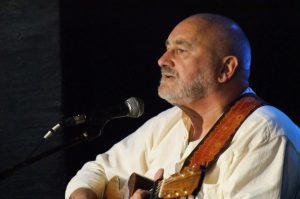 Even after many years travelling, singing and playing Mike is still fascinated by music, to him it is a never ending voyage of discovery; "Being able to play music is like having my birthday every day. The size of the audience is irrelevant, 1000 people,100 or 10 it's still the same, it's an exchange of emotions: occasionally, there is that frisson that ripples through them in the very few seconds between the end of the song and the beginning of their applause: it's like an earthquake in your heart".
Living Tradition June/July 2016 by Grem Devlin

… something enchanting about this collection of covers …

… I love the arrangement of the Townes van Zandt classic, Snowing on Raton …

… I just wish he would come up to Scotland again, if alchemy exists, you can find gold here without question.
fRoots June 2016 by David Kidman

… revered as one of this country's most accomplished singer-songwriter-guitarists …

It takes special talent to offer such supremely sensitive, caring and very personal renditions …

… outstanding interpretive skills …

… wonderfully mellifluous guitar … trademark 'less is more' intricacy …