Saturday April 21st 2018 7.30 pm., doors open 7.00 pm.
The Swan Inn, Shipton Road, Ascott-under-Wychwood, Oxon, OX7 6AY
Tickets £10.00 in advance £12.00 on the door available from:
01993 831427, www.wegottickets.com/wychwoodfolkclub, wychwoodfolkclub@gmail.com
Chris Ronald Trio
The Chris Ronald Trio from Canada comprises CFMA-nominated singer-songwriter Chris Ronald, BCCMA award-winning musician John Ellis, and CCMA "Fiddle Player of the Year" Mike Sanyshyn. Influenced by countless British and North American artists of the 60s onward, Ronald's music has been described as "Canadian folk with British roots," and The Province likened it to "the country and folk that came out of Laurel Canyon and the British Isles in the mid-seventies."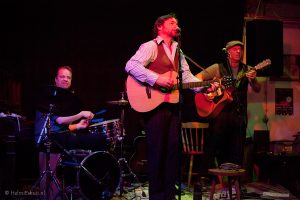 Now living in Vancouver, Canada, contemporary folk singer-songwriter Chris Ronald emigrated from his native England in 2002. Ronald first got hooked on songwriting at age 15 when he put to music a poem he wrote in high school, but he only started to go public in his thirties after moving to Canada and self-producing his first two albums. In 2014, Ronald made a breakthrough with his third album, Timeline, which gained him a nomination for 'Songwriter of the Year' at the Canadian Folk Music Awards and a place in the finals of the renowned Kerrville New Folk contest in Texas.
In live performance, Ronald draws on his abilities as a skilled singer, storyteller and musician. An accomplished soloist, he also tours as a trio. John Ellis and Mike Sanyshyn feature on Ronald's latest album, Fragments, which was released on esteemed Canadian folk label Borealis Records.
Sian Magill