Saturday April 7th 7.30 pm., doors open 7.00 pm.
Tiddy Hall, Shipton Road, Ascott-under-Wychwood, Oxfordshire, OX7 6AG
Tickets : £10.00 in advance £12.00 on the door available from:
01993 831427, www.wegottickets.com/wychwoodfolkclub, wychwoodfolkclub@zoho.com, www.wychwoodfolkclub.com
Julie Felix
There are those among us who just have to play and sing; to whom there can be no question of quitting; to whom their work is not a job, but a calling. Julie Felix is one such musician. – Steve Harley
What began for little Julie as sim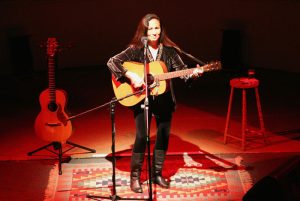 ple home entertainment, as her father and his friends played Mariachi music into the small hours of the morning, has actually been this remarkable woman's profession for nearly 50 years.
In 1964 Julie arrived in England after leaving California and became the first solo folk artist to be signed to a major British record company when she signed with Decca. In 1966 Julie became the resident singer on the amazingly popular TV programme "The Frost Report", and quickly became a household name. She went on to appear in her own TV series on BBC1 and BBC2 and recorded hit singles on Mickey Most's RAK label.
After a break from the music world in the 1980's, Julie began singing for Latin American Refugees, for woman's and gay rights and for peace projects including protests against the war in the Gulf. Julie created the Remarkable Records label and released 'Bright Shadows', her first album for 10 years. In October 2013 she was invited to Buckingham Palace to meet the Queen, Prince Philip, Prince Charles and Camilla.
B.W Pike
Benjamin William Pike is a critically acclaimed acoustic roots musician from Leeds, West Yorkshire. An agile and seasoned guitarist, adept at playing steel string, lap slide and pedal steel, Benjamin explores folk, alt. country, blues and beyond. His debut album – 'Being & Nothingness' was highly praised for its originality and unique musicianship and became one of Folk Radio's albums of the year in 2013.
Benjamin has played across the UK, Europe, the U.S. and Canada and has been invited to open for such luminaries as The Felice Brothers, C.W.Stoneking, Nell Bryden, The Low Anthem, Old Crow Medicine Show, Kelly Joe Phelps and 'Cactus' Jim Soldi (Johnny Cash's guitarist).