Saturday December 22nd, 7.30 pm., doors open 7.00 pm.
Tiddy Hall, Shipton Road, Ascott-under-Wychwood, Oxfordshire, OX7 6AG
Tickets : £12.00 in advance £14.00 on the door available from:
01993 831427, www.wegottickets.com/wychwoodfolkclub, wychwoodfolkclub@zoho.com, www.wychwoodfolkclub.com
'Listen Listen'
Sally Barker, PJ Wright, Marion Fleetwood, Anna Ryder, Mat Davies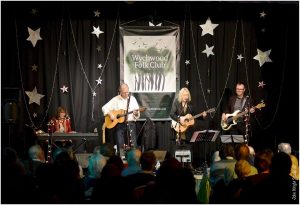 'Listen Listen' formed in 2017 to recognize and to celebrate the music of the late Sandy Denny, who is considered a founder of the British folk-rock movement, and perhaps its most important female singer. Sandy died in 1978, however her songs remain as fresh, poignant and as beautiful today as the time that they were penned. The repertoire of 'Listen Listen' reflects the amazing legacy of work left behind by Sandy, through her work with the early incarnations of Fairport Convention, the sublime Fotheringay, and also her incredible repertoire of solo work.
15 String Trio
Iota