Saturday May 4th , 7.30 pm., doors open 7.00 pm.
Tiddy Hall, Shipton Road, Ascott-under-Wychwood, Oxfordshire, OX7 6AG
Tickets : £10.00 in advance £12.00 on the door available from:
01993 831427, www.wegottickets.com/wychwoodfolkclub, wychwoodfolkclub@zoho.com, www.wychwoodfolkclub.com
The Gerry Colvin Band
Gerry Colvin is a writer of great substance who is able to give us something that has been largely missing in English Music for a long time. His subjects and characters are clearly defined and his songs create strong images and stories which can make us both laugh and cry in the same breath. This man is unique and unforgettable.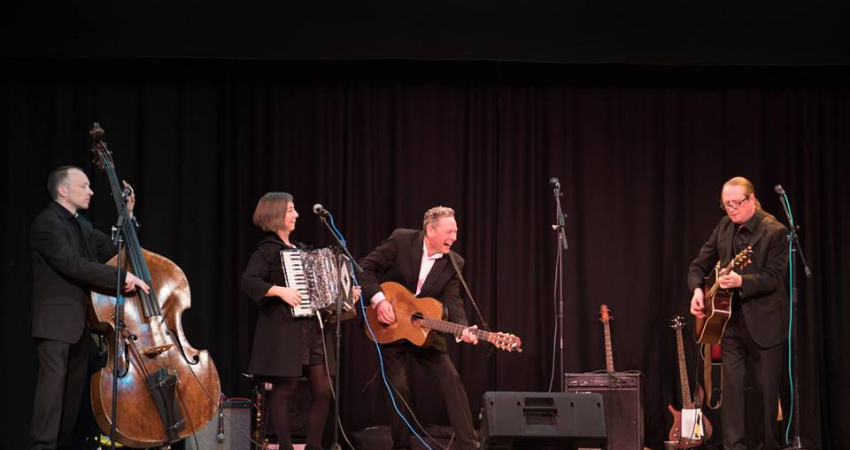 Gerry Colvin was born in Barrow-in-Furness. In the 1970's Gerry joined pop band 'The Man Upstairs'. They released three singles and toured with 'The Smiths'.
In the early 1980's he co-founded and fronted the legendary John Peel favourite skiffle-cowpunk indie outfit 'Terry & Gerry'. This seminal band toured Europe and the USA and appeared on countless Radio and TV shows including "The Tube" and "The Old Grey Whistle Test". Their five singles and album all reached No.1 in the indie charts. In 2010 Cherry Red released 'Let's Get the Hell Back to Lubbock', the definitive 'Terry and Gerry' compilation.
In the early 1990's Gerry worked in Nashville as a professional songwriter and back in the UK collaborated with Alison Moyet, co-writing on an album project. He also penned TV themes, musicals, film scores and wrote and presented for BBC Radio 2. His band 'Gerry Colvin's Inexperience', a fusion of Soul, R and B and Folk-Country, became a firm favourite on the College circuit.
In 1993 Gerry formed the folk-pop band 'The Atlantics': they toured extensively including a slot at Glastonbury Festival where Gerry was compere, and appeared on BBC's prestigious 'Pebble Mill at One'.
Colvin's other major project at this time was film music as vocalist with 'The National Screen Orchestra'; he also performed as a comedy double act with Hollywood superstar Mackenzie Crook.
In 1995 Gerry co-founded the five piece folk band Colvinquarmby. They released six critically acclaimed albums and were voted best band at the prestigious Fairport Convention Cropredy Festival in 2009. In 2010 they won the Hancock Award for 'Best Live Folk Act'. In May 2013 Gerry was invited by New York producer and Robert Plant song collaborator Dave Barratt to record 'Revolution' for the 'Beatles complete on ukulele' album and website.
In 2015 the original line-up of Terry and Gerry reformed and toured nationally with rock heroes Status Quo culminating with a concert at The Albert Hall!! Terry and Gerry also appeared at Glastonbury that year and released the 'Dear John' EP: a self penned tribute to the late John Peel. Cherry Red re-issued the greatest hits album too!!
In 2013 Gerry released a self-penned solo album 'Jazz Tales of Country Folk' . His new CD 'Six of One half a Dozen of the Other', a collection of ten(!) brand new songs, is available now. And his novel 'The Rabbits of Zakynthos' will be published next year.
Liz Simcock