Saturday February 1st, 7.30 pm., doors open 7.00 pm.
Finstock Village Hall, Well Hill, Finstock, Oxfordshire, OX7 3BU
Tickets : £10.00 in advance £12.00 on the door available from:
01993 831427, www.wegottickets.com/wychwoodfolkclub, wychwoodfolkclub@zoho.com, www.wychwoodfolkclub.com
Mark Harrison
There is no one in music quite like Mark Harrison. He is widely considered one of the most original and interesting artists currently operating in the UK.  His highly individual, all-original music goes down very well with audiences of all kinds, and it has taken him and his band (consisting of some of the UK's top roots musicians) to some of the top venues and festivals in the UK, attracting acclaim wherever he goes. Recent appearances on BBC Radio 2, as guest on Cerys Matthews's show and on Anneka Rice's Pick Of The Week show, have further added to his growing reputation.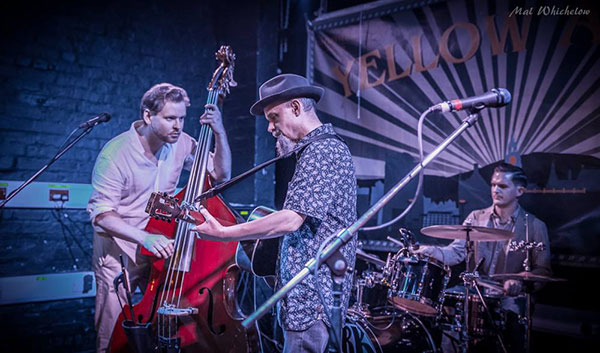 Described at BBC Radio 2 as 'quirky' and an artist who 'makes you think afresh', and by one eminent reviewer as 'approaching national treasure status', Mark is a totally original songwriter, a stunning guitarist, and a master storyteller. Mark's live shows are well-known not only for the music but also for his introductions and explanations of the songs, and audiences frequently comment on how big a part these play in their enjoyment of the shows. Delivered in a manner often described as 'wry' and 'dry', these mark him out even more as a unique artist.
really excellent … he takes very real things, normal things that happen in life, and he writes about them in a way that makes you think afresh about them

Paul Jones, BBC Radio 2
totally and absolutely original

Mike Harding
Mark Harrison keeps getting better

Classic Rock Magazine
innovative …… if Top Of The Pops was still around, he might well be on it

Jazz FM