Saturday March 19th, 7.30 pm., doors open 7.00 pm.
Tiddy Hall, Shipton Road, Ascott-under-Wychwood, Oxfordshire, OX7 6AG
Tickets : £14.00 in advance £16.00 on the door available from:
01993 831427, 07870 563299, www.wegottickets.com/wychwoodfolkclub, wychwoodfolkclub@zoho.com, www.wychwoodfolkclub.com
Comprised of 2 Irishmen, 1 Englishman and 1 American the band came together in 2011 to make their unique brand of acoustic music; a veritable 4×4 of voices and instruments identified for their dynamic fusion of styles including folk, latin, Americana & even some bluegrass.
The four international "madrileños" (Garrett Wall, Dave Mooney, Howard Brown & Robbie K. Jones) whose artistic names derives from the dark subterranean world of New York's subway system, present Fire On The Rails, a kicking album that grows on the work that has opened so many doors for the band.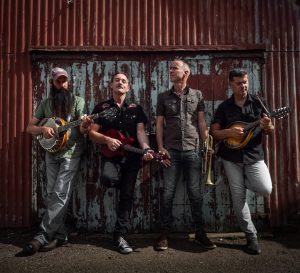 Fire on the Rails is Track Dogs' second LP recorded on the Studer A80 analog tape machine recovered from Abbey Road at Playground Studio in Madrid. Since Kansas City Out Groove (2018) and their compilation of ukulele-based recordings, Uke Songs By Track Dogs (2019), the band has deepened and elaborated its sound explored. Producer Germán Gutiérrez has managed to make Track Dogs pack even more punch and achieve grandeur in the sound that they've been cultivating over more than 100 songs in their recording career.