Saturday November 25th, 7.30 pm., doors open 7.00 pm. 
Tiddy Hall, Shipton Road, Ascott-under-Wychwood, Oxfordshire, OX7 6AG
Tickets : £20.00 in advance £22.00 on the door available from:
01993 831427, 07870 563299, www.wegottickets.com/wychwoodfolkclub, wychwoodfolkclub@zoho.com, www.wychwoodfolkclub.com
Martyn Joseph is a completely unique and mind-blowing artist. Take everything you think you know about singer songwriters….and rip it up. For one man and a guitar he creates a performance with a huge far-reaching sound that is energetic, compelling and passionate. Be it to two hundred people or twenty thousand, he blows the crowd away night after night. 
He is gifted with the rare ability to speak to the soul with his expressive and poignant lyrics and has a career spanning 30 years, 32 albums, over a half a million record sales and thousands of live performances.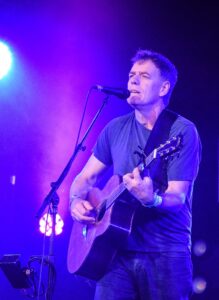 Compared to Bruce Springsteen, John Mayer, Bruce Cockburn and Dave Matthews, he has created his own style and reputation as a mesmerising live performer and stands in his own right, built on a reputation for giving what thousands have described as the best live music experience of their lives. A unique talent driven by passion, social awareness and love for his trade, he's a jaw dropping guitar player who has developed a unique percussive style, teamed up with a powerful show stopping voice, and has been called "The Welsh Springsteen" 
In addition to his 5 top 50 UK hits, the importance of his work has been recognised by programmes such as BBC Radio 2's prime time series on Singer/Songwriters. Social justice has an essential presence throughout his music, which has been recognised with various humanitarian awards and plaudits.
Stunning, heartfelt music

Bob Harris BBC Radio 2 
Intelligent and enlightened songs are both energising and provocative…from subtle tenderness to growly indignation. A Welsh national treasure

MOJO
A superb album, open yet textured; complex yet immediately listenable: insightful and often hard hitting

R2
heartfelt and ultimately optimistic songs

Songlines
One of the most charismatic and electrifying performers in Britain today…tough and passionate

Tom Robinson BBC 6 music